At the heart of The Royal Conservatory is the extraordinary Ihnatowycz Hall, built in 1881. This space encompasses a range of renewed and new areas for learning and performance activities, including Mazzoleni Concert Hall, studios, classrooms, a new-media lab, and administrative offices.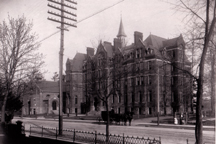 In November 2005, Mr. Ian Ihnatowycz and his wife, Dr. Marta Witer — both Royal Conservatory alumni — made a transformational donation towards the revitalizatoin of our magnificent historical wing, which was renamed Ihnatowycz Hall in recognition of their generosity.

From the historic Bloor Street entrance to the handsome grand staircase, arched doors, stained glass windows and hardwood floors, Ihnatowycz Hall has been beautifully restored and is widely acclaimed as a heritage gem.